---
1999 - STAR WARS
Complete Series of 24 cans from USA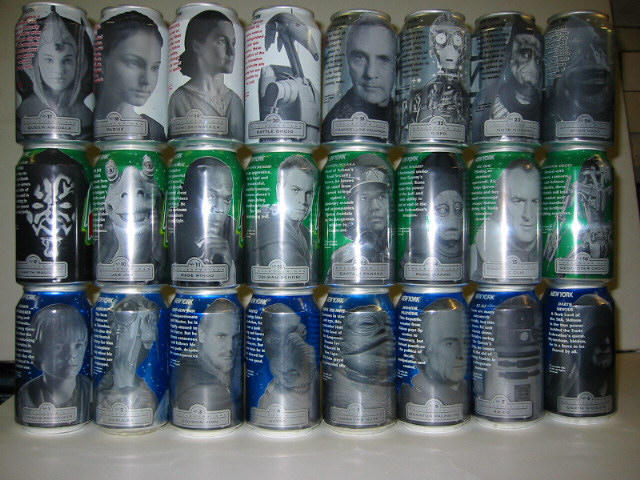 Star Wars Episode 1: The Phantom Menace.
Anakin Skywalker (Pepsi)

Sebulba (Pepsi)

Qui-Gon Jinn (Pepsi)

Watto (Pepsi)

Jabba the Hutt (Pepsi)

Senator Palpatine (Pepsi)

R2-D2 (Pepsi)

Darth Sidious (Pepsi)

Darth Maul (Mt Dew)

Jar Jar (Mt Dew)

Mace Windu (Mt Dew)

Obi-Wan Kenobi

(Mt Dew)

Captain Panaka (Mt Dew)

Rune Haako (Mt Dew)

Ric Olie (Mt Dew)

Destroyer Droid (Mt Dew)

Queen Amidala (Diet Pepsi)

Padme (Diet Pepsi)

Shmi Skywalker (Diet Pepsi)

Battle Droid (Diet Pepsi)

Chancellor Valdrum (Diet Pepsi)

C-3PO (Pepsi One)

Nute Gunray (Pepsi One)

Boss Nass(Pepsi One)
NOTE:
Secret phrase on US cans
(In all the 24 cans there is a word for compose a secret phrase)
One thing that made the USA collection unique from the other cans is the "secret word" on each of the nationally released cans. Many fans who had all 24 cans were still puzzled over the words. Then Pepsi announced on Sept 1, 1999 that the words actually formed three phrases rather than just one:

"Anakin breaks free but may face new enslavement"
"the Jedi triumph but their future is clouded"
"one menace is destroyed but another lurks nearby"
VARIANTS:
There were also 2 special cans of Storm Soda.
(Storm in a Lemon-lime product that was tested in LIMITED AREAS - has since been replaced by Sierra Mist.)
On those cans were Jar Jar Binks & Qui-Gon.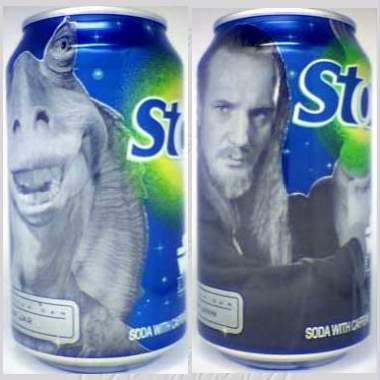 --- --- ---
There were also a total of 6 different Gold Yoda Cans!
The Gold Yoda cans was a special contest where if you found a Gold Yoda can in a 12 or 24 pack, you had to send the can into Pepsi where they would send you $20 plus a special "Replacement" can. The 6 cans are found on:

Pepsi - (1)Pic.
Mountain Dew
Diet Pepsi
Pepsi One
Storm
The "Replacement" Can - (2)Pic.
(1)Pic.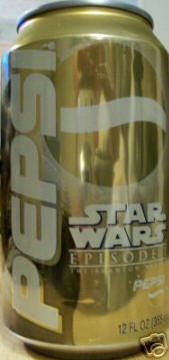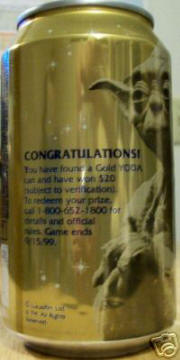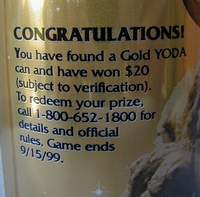 (2)Pic.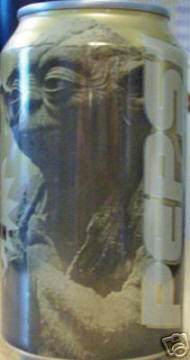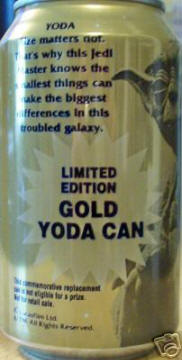 --- --- ---
Next Pepsi made a special Pepsi can that they "hid" in cases of Pepsi like the Gold cans.
This can is the "Destiny" Can. It is full color and a cool looking can.
(They supposable put 1 can in every 900 CASES!)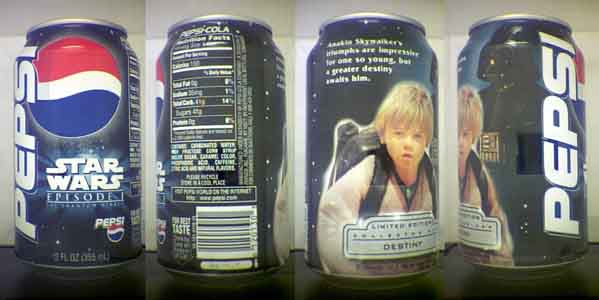 --- --- ---
Last Great Addition is:
"STAR WARS PEPSI CAN PROMO STEEL CASE SET".
It is a really nifty steel case with fighter jet to close the door!!!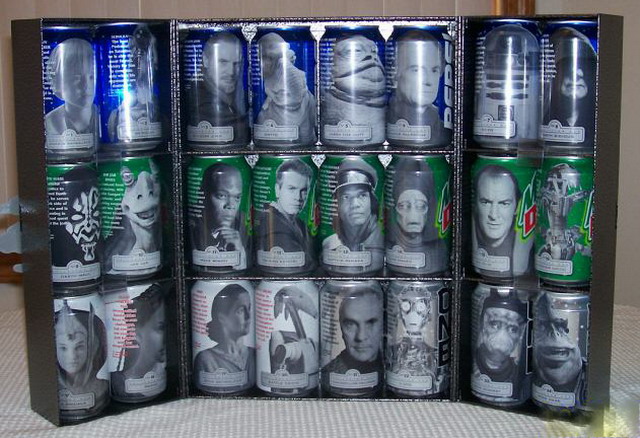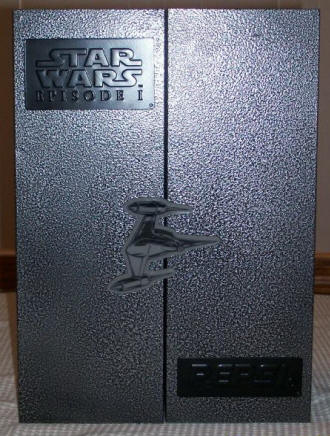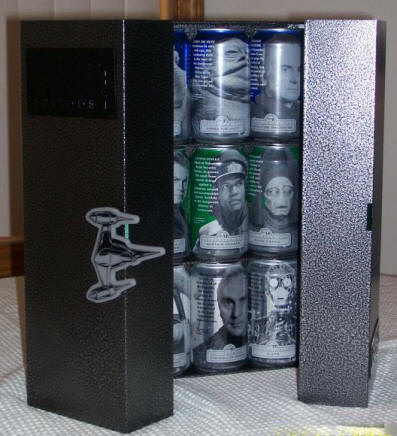 --- --- ---
STAR WARS PEPSI HOLOGRAM !
THIS PEPSI CAN IS A TEST AND ONLY GIVEN OUT TO PEPSI CO EMPLOYEES, NEVER RELAEASED TO THE PUBLIC.
THIS CAN WAS PRODUCED IN THE 2001 FOR THE SECOND MOVIE OF STAR WARS.
THE CAN HAS HOLOGRAM INLAY WITH SHIPS FLYING AROUND ( REBEL AND DARK SIDE)
PIC IS HARD TO SEE THE HOLOGRAM BUT IT IS THERE AND VERY PLEASING TO THE EYE
IT SHIMMERS AND CHANGES WHEN YOU TILT THE CAN.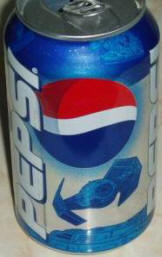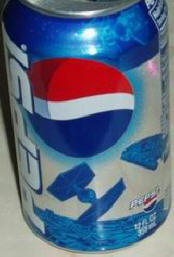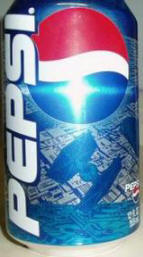 --- --- ---
STAR WARS PEPSI "LUKE SKYWALKER" PROTOTYPE CANS!
I close this page with a pic of 6 prototype cans. Very Nice!!!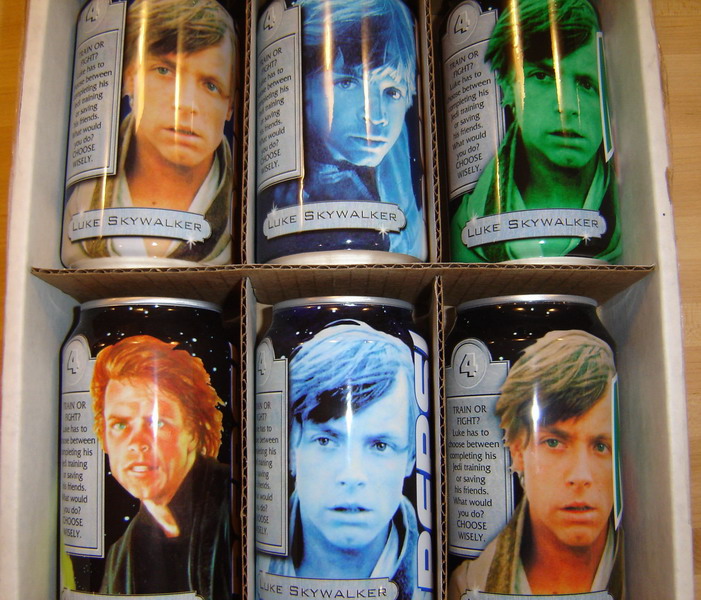 ---
This Page is created by © DAVIDE ANDREANI © 1997- 2021 = 24 years online .