Menu:
Special Single
GOLD CANS

Special Single
DIAMOND

Special Single
SPACE CANS
Special Single
from North
AMERICA
Special Single
from South
AMERICA
Special Single
from AFRICA
Special Single
from ASIA
Special Single
from EUROPE
Special Single
from OCEANIA



Special
GHOST CANS
Special
EMPLOYEE
XMAS CANS
Special Single
MYSTERY,
BANK,
PLUSH CANS

Special Single
LOVE CANS


SPECIAL
SINGLE CANS
from OCEANIA
(01) AUSTRALIA
2019
(02) AUSTRALIA
1993
(03) AUSTRALIA
1987
(01) Between the last months of 2019 and early 2020, a series of massive fires led to the destruction of large areas of Australia.
The Coca-Cola Foundation allocated money to the fire department and distributed water to volunteers, and produced a limited edition Share a Coke with the Firies cans. The cans have been created to donate exclusively to fire fighters and other volunteers as an expression of thanks. The 375ml cans (CC and CZ) will not be available for sale.
(02) 1993/1994: "50Cents donated to the Sydney 2000: Games Bid!". The can has been released when Sydney won the bid to host the olympic games.
(03) This can is produced for the Japanese market, the can was filled in the Dandenong Coke plant here in Melbourne. The odd feature of this can is that is 355ml, and all current cans in Australia are 375ml.
The can was produced as a sample can to show to Japanese representatives. The first 400 cans were destroyed by the machine due to the odd shape of the can (the machine was only used to fill
375ml cans) but about 50-100 cans survived. The majority was then sent to Japan, god knows was have happen to them after that!! But a hand full of can have been smuggled out of the factory.
The can features a aerial photograph of the beautiful city of Melbourne, and is has text in English and Japanese.
The back panel is written in Japanese, and then it says:
"This sample can is provided for Coca Cola Technical Centre
(Pacific) Company Limited for Technical evaluation by
the Dandenong factory of Containers Packaging".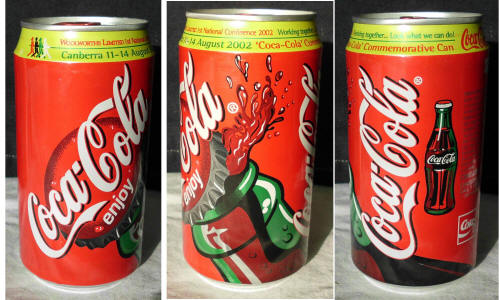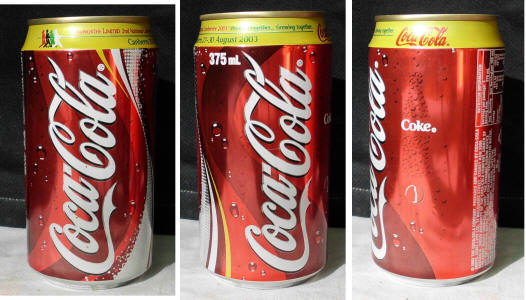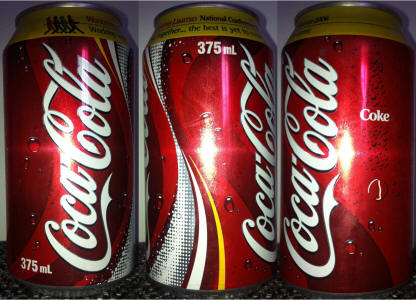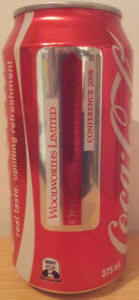 (04) (05) (06) (07) AUSTRALIA
2002 - 2003 - 2006 - 2008
(08) AUSTRALIA
1989
(09) AUSTRALIA
2017
(10) NEW CALEDONIE
1987
(08) This can is a real mystery. Its a strange size of 300ml, which wasn't used after this can.
(09) "LOVE" can: Australia is currently participating in a postal survey on marriage equality. Coca-Cola has long believed in the power of bringing people together. No matter who you are or who you love, all couples should be treated equally. To coincide with the start of the postal survey, the team transformed the iconic Kings Cross sign and released a limited run of special edition cans emblazoned with the word, LOVE.
(10)

New Caledonie 1987 (produced in Australia): 8th Jeux du pacifique sud.
(11) NEW ZEALAND
1994
(12) NEW ZEALAND
2000
(13) NEW ZEALAND
1998
(11) In New Zealand There is a large music gatherings which are free entry to all at Christmas time. They are called 'Christmas in the park' and thousands attend, and famous NZ performers sing their songs and many Christmas carols. For that year Coca Cola put out a "Green Christmas can" to advertise the events throughout New Zealand. Then, on the night, they released a special "Black Christmas can" which was only available at the park in Auckland. The can is, as a result, very rare.
(12) 2000: New Zealand bottle can with a special CONVENTION sticker. It is a can specialy released for the CBCCCC can convention in 2000. Note that this is a sticker label on the can.
(13) 1998: New Zealand bottle can with a special Christmas sticker. ("Wherever I go" Santa holding Coke bottle). This was only available at the NZ Coca-Cola Collectors Club Christmas meeting.
(14) TAHITI
2004
(15) NEW CALEDINIE
1997
(16) NEW CALEDINIE
1998
(14)

2004 Surf Teahupoo.

(15) 1997 BACK TO SCHOOL ...
(16) 1998 BACK TO SCHOOL ...
(17) NEW CALEDINIE
1999
(18) NEW CALEDINIE
2000
(19) TAHITI
1995
(17) 1997 BACK TO SCHOOL ...
(18) 2000 BACK TO SCHOOL ...
(19) 1995 Jeux Du Pacifique from Tahiti.